Meet the Good Earth Plant Company Eco-Warriors
Jim Mumford, CLP, GRP – Owner/President
Jim Mumford began his career in 1977 with the opening of Good Earth Plant & Flower Company, a flower "bucket stand" in downtown San Diego.
More than four decades later, Mumford's advocacy for bringing nature closer and enriching peoples' lives with plants is central to his business and personal success.
Mumford is an award-winning workplace greenery expert, plant stylist, horticulturalist, and designer. He is a Certified Landscape Professional, Accredited Green Roof Professional, licensed contractor and a nationally recognized plantscaper.
Sought after for his expertise in designing and installing green roofs, living walls, moss walls, replica walls, and for improving workplace environments and employee wellness through plantscaping, Jim Mumford is acknowledged by industry peers as one of its most enthusiastic and knowledgeable leaders.
For the first 20 years, Mumford focused on improving interior environments with plants and floral designs. He also worked for event promoters and supported tours featuring Joan Rivers, ZZ Top, Jimmy Buffet, and Robin Williams. Mumford created a bridal bouquet for Madonna's "Like A Virgin" concert tour.
In 2003, Mumford's home in eastern San Diego County was destroyed by the Cedar Fire. Mumford reconsidered his focus and applied his skills to the potential for larger-scale biophilic design projects including green roofs and living walls to add to what he already knew about sustainable building. At their heart, green roofs and living walls are simply new ways of putting plants in containers and integrating them onto buildings.
In March 2008, Mumford launched subsidiary business GreenScaped Buildings. Mumford's award-winning client projects include green roofs for the University of California, Sharp Memorial Hospital, and Miramar College; living walls for Westfield Malls, Marriott and Loews Hotels, Qualcomm, Sempra Energy, Illumina, and several of the world's largest technology innovators who decline being named.
Inspired by building the first commercial green roof using his own building as a successful example after being told it couldn't be done in Southern California, the Good Earth headquarters now houses a talented team of horticulturalists, designers, installers, and technicians who share the Good Earth Plant Company passion for a simple, meaningful mission: making people happy with plants.
In a post-pandemic world, the new focus on the health of indoor environments puts Mumford's lifelong work in focus. In conjunction with a group of workplace greenery professionals known as the Silverado Roundtable, the group produced a 2021 white paper titled The Nature of the Post-Pandemic Workplace, offering a new vision of the modern American workplace facilitating biophilic design-oriented spaces where people can gather, collaborate, and thrive.
Scientific research continues to find that plants improve productivity, reduce workplace absenteeism; speed the healing process from disease and surgery; lower stress and stress-related illness; and reduce heating and cooling costs for homes and businesses.
Mumford is a sought-after speaker and a recipient of numerous industry awards. He was named a California "Entrepreneur of the Year" by Governor Arnold Schwarzenegger; one of San Diego's "Top Influentials" by the San Diego Daily Transcript; and one of the "Most Influential Business People" by the San Diego Business Journal. He was a featured speaker at the TED Youth Conference in San Diego. His weekly blog has been named the "Best Topic Based Blog" by the San Diego Press Club for four years (2018 – 2021) in competition with full-time professional journalists.
Mumford contributes his expertise in a variety of roles. He is a past president of The Plantscape Industry Alliance and current board member of Green Plants for Green Buildings (GPGB); and is an active member of the International Facilities Management Association (IFMA), American Institute of Architects San Diego (AIASD), and the American Society of Landscape Architects (ASLA). Mumford served on the Downtown San Diego Partnership's Sustainability Committee.
Jim Mumford brings skill, creativity, and beautiful, healthful environments to local and national clients including hospitals, resorts, universities, restaurants, and private homes. It's for all these reasons he was named an "Eco-Warrior" by San Diego Magazine.
Mumford is a longtime San Diego resident. His son Ted and daughter Allie are the inspiration behind his desire to leave a sustainable world for the next generation.
Erin Lindley
Office Manager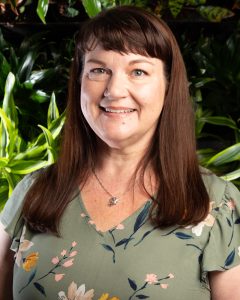 Erin Lindley brings 25 years of experience in a variety of office administrative and supervisory roles to Good Earth Plant Company. A native San Diegan who has lived in East County for 35 years, Erin possesses an impressive breadth of experience which she is able to implement on a daily basis.
Dan Summers
Business Development
Dan Summers joined the Good Earth Plant Company team in 2020. He is a native San Diegan and lifelong resident. His background includes commercial construction and sustainable agriculture, and he studied sustainable urban agriculture at San Diego City College. He's worked on ag projects throughout San Diego County. Dan spends his free time traveling, riding bikes, camping, and hanging out with his new pup. Don't ask him the exact breed – she's a rescue. Dan most enjoys helping clients create new living walls in his hometown.
Joe Benedetti
Operations Manager
Joe Benedetti joined the Good Earth Plant Company team in 2020. He has deep roots in the Plantscaping industry. His parents own Kelly Mac Interiorscapes in New Jersey, where his interest in plants began working in the family business over the years.  Joe loves designing and installing living walls, and his favorite plants are ceropegia woodii and various kinds of peperomia. Joe is also a musician. He has been playing slide guitar for the last 15 years including venues and festivals. Bragging rights: Joe opening up for rock and roll hall of famer Johnny Winter in 2013.
Rachel Hecathorn
Lead Design / Project Manager
Rachel Hecathorn was originally hired in 2018 as a Horticultural Technician. Rachel has always had a talent for visual design and has put her creative skills to use in a variety of jobs including as a retail visual manager and as a floral designer. Now she puts her skills to work for Good Earth Plant Company clients on living walls, moss walls, and more  – even our award-winning "Art Alive!" displays. Rachel is a native of Illinois and has lived in Arizona and Nebraska before coming to San Diego.