NEW FOR 2022! Download Our White Paper
The Nature of the Post-Pandemic Workplace – Second Edition

One year into the pandemic at the start of 2021, we believed we would soon return to a reinvented workplace. Now in 2022, it turned out there were still many lessons to be learned.
Jim Mumford, owner of Good Earth Plant Company, and colleagues from the Silverado Roundtable published a white paper in 2021 for architects, interior designers, facilities managers, property managers, building owners, C-suite executives, human resources professionals, and anyone involved in creating the post-pandemic workplace. It was well received and started many conversations.
Sparked by one of the most transformational societal experiments in modern history, businesses and employees no longer looked at workplaces or work the same way they did in 2020. The Great Resignation (or Realignment or Renegotiation) accelerated the new way of thinking about what it means to "go to work."
The Silverado Roundtable applied these new lessons in an updated second edition of its white paper to reflect this emerging perspective.
The opportunity to rethink and reboot working spaces remains strong but with an adjusted point of view. Fostering a healthy workplace culture with the flexibility to accommodate a hybrid menu of options can flourish driven by the principles of biophilic design and workplace greenery.
Employees now want the best of both worlds: the focus and comfort of working from home, along with the ability to return to collaborative workspaces to be part of a team, contributing to the return of a robust economy and enriched lives.
Mobile Plant or Moss Walls for Lease or Purchase
Creative flexible gathering spaces for your employees to collaborate means the open-plan office and cubicle farms must change. Facilities managers, designers, and building owners need to find cost-effective, swiftly implemented solutions to encourage your workforce to safely return.
Are you ready for employees to return to a modern collaborative workplace?
Rethinking your approach to the use of office space with a focus on larger gathering places may seem daunting – and expensive.
It doesn't need to be!
Good Earth Plant Company is ready to help.
Mobile plant walls or mobile moss walls can serve multiple purposes. They cost a lot less than other options and can be installed quickly. They can preserve your budget to help modernize quickly – without extensive supply chain and labor delays.
Multiple BENEFITS of flexible plant walls in the workplace
There are multiple benefits to adding mobile plant or moss walls to your interior space beyond their flexibility and cost-effectiveness.
They provide the ability to reconfigure workspaces as your needs change.
They don't require time consuming construction or delivery.
They can be integrated into nearly any floorplan or space.
They introduce the health benefits of biophilic (nature-based) design.
Plants enrich peoples' lives!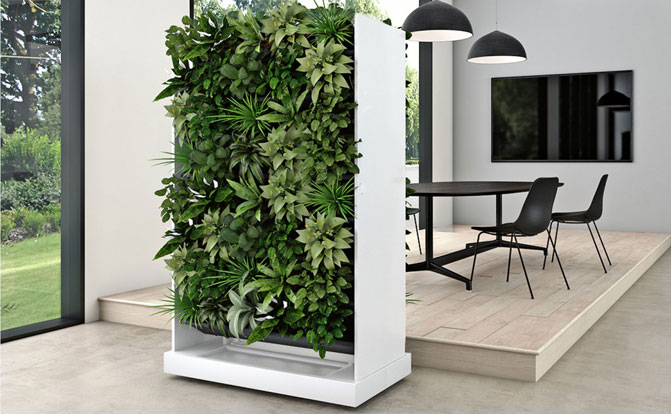 Let Good Earth Plant Company help you create a welcoming, collaborative, and healthy workplace environment for the new reality of employment in 2022 by enriching your workplace with plants!