NEW! Download Our White Paper: The Nature of the Post-Pandemic Workplace
In the aftermath of the coronavirus pandemic, the workplace will emerge reinvented. But few can agree on what this means.
It's a golden opportunity to rethink and reboot working spaces. Along with a renewed emphasis on safety, workplace culture can flourish with healthy new energy driven by the principles of biophilic design and workplace greenery. Employees will feel welcomed and eager to return to collaborative workspaces, contributing to the return of a robust economy and enriched lives.
Written by Jim Mumford, owner of Good Earth Plant Company, as part of the Silverado Roundtable, this white paper is for architects, interior designers, facilities managers, property managers, building owners, C-suite executives, human resources professionals, and anyone involved in creating the post-pandemic workplace.
Let Good Earth Plant Company help you get back to business in 2021 by enriching your workplace with plants!
Mobile Plant or Moss Walls for Lease or Purchase
Due to the new realities of the coronavirus pandemic, the open-plan office must change. Facilities managers, designers, and building owners need to start planning strategies NOW to be ready for your workforce to safely return.
Are you ready for employees to safely return to the workplace?
The thought of building barriers and changing workspace arrangements may seem daunting – and expensive.
It doesn't need to be!
Good Earth Plant Company is ready to help.
Mobile plant walls or mobile moss walls can serve multiple purposes. They cost a lot less than other options and can be installed quickly. They can preserve your budget to help get through this challenging time.
Multiple BENEFITS of flexible plant walls in the workplace
There are multiple benefits to adding mobile plant or moss walls to your interior space beyond their flexibility and cost-effectiveness.
They provide a visual reminder to work safely.
They don't require time consuming construction or delivery.
They are friendly and welcoming, not cold and intimidating.
They clean the air and offer performance and health benefits.
They provide a safe physical barrier.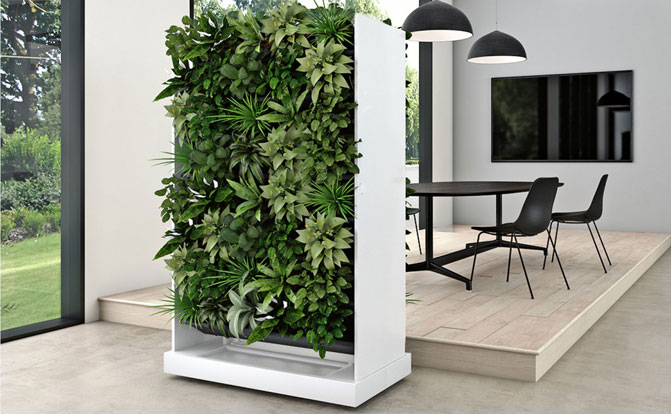 Good Earth Plant Company understands how to make the new workplace work. We have experience providing mobile plant and moss walls to businesses in all kinds of industries. We aren't going to be learning on the fly at the expense of your business operations.