Forty-eight years ago today, the first Earth Day took place in 1970. It is now an annual event celebrated on April 22, coordinated globally by the Earth Day Network. It reaches more than 192 countries each year including hundreds of communities in the United States.
Not to brag, but we celebrate Earth Day every single day at Good Earth Plant Company! We are a green-run company and we believe in sustainable practices. They are now just a normal part of our everyday routines.
We love it when the rest of the world takes a day to focus on environment issues and finding good solutions we can easily adopt. You have probably done all the easy things. You're recycling paper, cans, bottles, and other recyclable materials – right? Swapped out your old light bulbs for energy efficient models? Trying not to waste water?
But there is always more you can do, and more ways you can educate and inspire yourself about sustainable practices. So in honor of Earth Day 2018, Good Earth Plant Company shares our 18 ways to celebrate Earth Day 2018.
Get Out There And Go Wild
San Diego can brag about its Earth Day Fair, which is the largest free, all-volunteer Earth Day event in the world. This year's 29th annual Earth Fair takes place in Balboa Park on Sunday, April 22. This year's Earth Fair features 300 exhibitors, the Children's Earth Parade from 9:30 to 11 a.m., the eARTh Gallery arts and crafts show, a kids' activity area, the Cleaner Car Concourse and plenty more than we have room to list. Hours are 10 a.m. to 5 p.m. Visit the website for the details here.
See more for yourself in this San Diego Earth Day Fair 2018 video.
Volunteer for a neighborhood or beach clean-up on a regular basis. Start with one scheduled on Earth Day weekend. Here's a list. Visit the I Love A Clean San Diego website for a few ideas, or join your local community group, place of worship, or organize one yourself!
Visit one of San Diego's institutional gardens. If you haven't paid a visit to the Water Conservation Garden at Cuyamaca College, it is well worth the trip. The annual Spring Garden & Butterfly Festival is next weekend on Saturday, April 28. Don't forget the Japanese Friendship Garden and Alcazar Garden in Balboa Park, South Bay Botanic Garden at Southwestern College, or the Self-Realization Fellowship Center meditation gardens with a view of the Pacific Ocean in Encinitas. Many of you know this place as Swami's. It is open daily and it is free. Or visit your local independent nursery and get inspired!
Get outside! Celebrate with a walk, a trip to a park for lunch, a game of kickball or volleyball or nearly anything with a ball outdoors. Take your kids on a nature hike. You can go on a free guided Family Discovery Walk on Earth Day Sunday at Mission Trails Regional Park from 3 to 4:30 p.m. Meet inside the visitor center. Find more information here.
Cut It Out and Save Natural Resources
Reduce your clothing purchases. The amount of textiles produced since 1991 has doubled worldwide, and there is 40 percent more textile waste since 1999. People buy 68 individual pieces of clothing a year on average. Do you really need another pair of cheap jeans? Spend a little more and invest in nicer quality clothing that will last you five years, not one.
Cut down on food waste. Americans spend $165 billion on food that goes wasted. It rots in the refrigerator or on the counter before you eat it, or you toss half a plate of food in the trash. When food ends up in a landfill, it generates methane gas as it degrades, which is a major contributor to global warming. So reconsider your grocery buying habits. Buy only what you KNOW you can use. Instead of calling Uber Eats, see what you need to use up in the refrigerator and pantry first. It will save you money, too.
Get a reusable coffee container. In just one year, 14.4 BILLION cups of coffee are served in paper cups in the United States. This would wrap around the planet 55 times. Bring a reusable cup when getting your next caffeine fix.
Join the straw-free movement. Plastic straws are a menace. I've been requesting "no straw" for a long time – and I'm still given one nearly every time I ask for water at a restaurant. They end up in our oceans, rivers and lakes, choking and killing wildlife. Do you really need a straw to draw that soda or glass of water? No, you don't. Use a plastic straw, kill a sea turtle.
Buy fewer cleaning products. Do you have something to clean your mirrors, another product for your tile, another for your kitchen counter, and still another for the floor? You can buy a multipurpose cleaner for most uses – and reduce that clutter of a dozen different containers. Try using natural cleaners like baking soda and vinegar. Here are a few recipes to try.
Make Your Routine A Little Greener
Go vegetarian one day a week. The excessive demand for meat creates an excessive strain on environmental resources, and the more we ask for, the more our planet suffers. According to the Food and Agricultural Organization of the United Nations, livestock agriculture contributes to more than 18% of man-made greenhouse gas emissions. It takes up to 2,500 gallons of water to produce one pound of beef. It takes 40 calories of fossil fuel energy to produce a single calorie of beef, but just 2.2 calories of fossil fuel energy to produce a calorie of plant based foods. Thirteen percent of Americans call themselves vegetarians or vegans. It won't kill the rest of you to back off the burgers once in a while.
Check your pipes and plumbing for leaks. Even one small leak can waste hundreds of gallons of water every year. The price of water isn't getting any cheaper. Get a professional to check for leaks. Saving on your water bills could recoup the entire cost of getting them checked, and you'll be saving one of our most precious resources.
Switching all of your bills to e-bills and online invoices can save millions of trees every single year. So can viewing your favorite product catalogs online instead of getting them in the mail. For a few weeks, go through your mail and switch everything possible to online delivery.
Inflate your tires! A properly inflated set of tires can improve gas mileage enough to prevent 250 pounds of CO2 every year from polluting the atmosphere.
Don't dump out old paint. Paint is a serious toxic hazard and a real threat to the environment. Oh, and illegal to dump! There are plenty of places to recycle paint, including 50 major paint retailers in San Diego County. You have NO excuse. Here's a guide for you.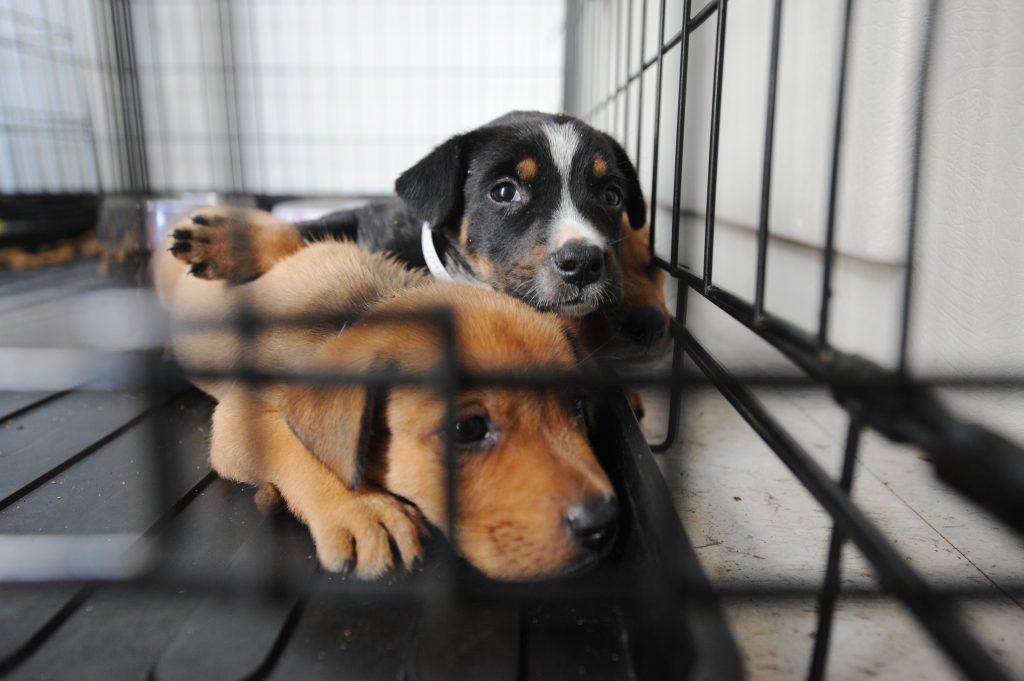 Think Twice Before You Buy
Reconsider how often your car needs an oil change. Do you really need an oil change every 3,000 miles? New vehicles can go 15,000 miles before needing an oil change. Consider synthetic oil when you do get an oil change, which costs more up front but saves you in the long run. Visit this excellent resource provided by the City of Chula Vista.
Reuse and repurpose. Before you toss that broken item, can you save it? Turn it into something else? Donate it to a thrift store? And remember, one person's donation is another person's find. Shop your local thrift stores. If you're a newbie, start with books, artwork, and glassware. You'll get hooked.
Adopt a pet! Find a home for one of the many dogs and cats at San Diego's shelters or with a rescue group. Choose a mixed breed or your own favorite breed through a specialty organization like Labs and More or San Diego Maltese Rescue. Sign up at Petfinder.com and have candidates sent to your email daily. If you can't bring a pet home, considering sponsoring an adoptable animal with a donation.
Say no to those promotional key chains and doo dads you get for free at conferences, fundraisers, and fairs. You know it's junk, and accepting it just encourages more. Pass it up. Your trash pile will shrink dramatically. (My only exception: recyclable grocery bags. I don't mind advertising if I can bring my produce home in it every week).
Bonus suggestion: Plant milkweek for monarchs
Monarch butterflies need milkweed to survive. Monarch caterpillars only eat milkweed plants (Asclepias spp.), and monarch butterflies need milkweed to lay their eggs. We have lost a lot of milkweed from our environment due to development. By planting native milkweed, you can help monarchs thrive and other pollinators too.  management practices, we have lost much milkweed from the landscape. IMPORTANT: plant only milkweed native to California. Do not plant tropical milkweed. Ask a knowledgeable person at any of our quality nurseries for help making the right choice.
Doing what we can to create a cleaner, healthier environment is an every day mission at Good Earth Plant Company. We hope you'll do your part to help improve our ecosystem. Each of us doing a little adds up to a lot. If you're motivated to do a little more, contact us about adding plants to your workplace environment, maybe even a living wall or a green roof. We've got lots of great ideas for you.