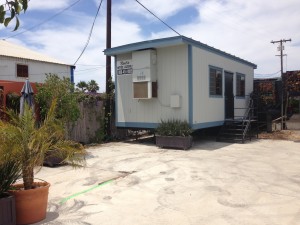 Most people will agree that change can be difficult. From little things like learning how a new phone works to moving or starting a new job, change never seems to come easily.  But as I get older, I am finding that while change is tough, it has an upside. Our headquarters are bursting at the seams and it is time to think creatively.  Time to make a change.
Today we brought in an office trailer to our headquarters that will be an office for two of our staff. It is a much-needed addition to our space here, but darned if it wasn't an easy process. It's a BIG trailer and if you've seen our complex, you know our driveway to the back is pretty skinny. Try loading in a big trailer and truck to haul it and then have to make twenty-point turns in the process. Yikes! I ended up dragging planters to make access area and playing project manager just to get the darned thing installed.
But it's all settled in now and happily situated on the west wall of our patio. For the next year, the temporary offices will be home for our newest employees until we can build a new warehouse and offices in its place.
I learn new things everyday. Business is good and we're busy. We have staff out on a great installation today and we are hiring (or have perhaps just hired) a new salesperson. For me, that's a great indication that business is solid and we are moving ahead.
Anyone in business will tell you, it's been a tough winter, and long recovery. We are all looking forward to some sunshine and sweet air. I am so proud to see our Good Earth Plant Company family growing. Even if it means hauling a few planters and taking a few Advil.