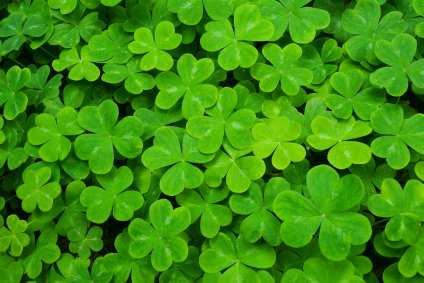 Thirty six million Americans claim at least a little bit of Irish ancestry, myself included. Over 80 million people worldwide claim an Irish family connection. No wonder St. Patrick's Day is more popular outside Ireland: the total population of the country is just 4.8 million people.
We love St. Patrick's Day at Good Earth Plant Company, because it's all about the green! Anything that gets people thinking green and about plants is something we support, whether we are Irish or not.
The truth is that blue was the color traditionally associated with Ireland, and the color most often connected with the real St. Patrick. Green was once an unlucky color in Ireland. It looks like everyone got over it.
The green symbol tied to St. Patrick is the humble shamrock, more or less a weed in Ireland. Being so common, St. Patrick used this three-leaved plant to explain the Holy Trinity (the Father, the Son, and the Holy Ghost) as he tried to convert to Irish pagans to Catholicism.
Let's get botanical on you. The shamrock of St. Patrick's time could have been one of several native Irish plants: hop clover (trifolium minus), white clover (trifolium repens), wood sorrel (oxalis acetosella) or the black medic (medicago lupulina). The most likely candidate which can claim to be the authentic shamrock is probably the hop clover, which has small leaves and yellow flowers. It is commonly sold all over Great Britain.
On rare occasion, these three leaved plants produce a rare mutation of a four leafed clover. These were revered by pre-Christian Druids, perhaps as a show of defiance to the Church. They have always been considered lucky if you are fortunate enough to find one.
What we usually see in the United States isn't related at all to the Irish shamrock. It is frequently the oxalis plant, which are four leaved and much bigger. We do everything bigger in America, so no surprise.
Right now (including in front of my local Trader Joe's this week) you can find small pots with Oxalis deppei called "Lucky Clover" or "Shamrocks." You will know the difference, but they are a fun plant to enjoy.
The oxalis is a bulb from – Mexico! It produces beautiful leaves from May through fall frosts and red or dark pink flowers in the summer. These false clovers are perfect plants to grow in Southern California. Being a Mexican native plant they love full sun and they are drought tolerant. You can grow them as edging in flower beds or as ground cover, even in pots. They are not invasive.
Traditionally, every year the President of the United States receives an Irish crystal bowl full of true traditional shamrocks grown in Kerry from the leader of Ireland. Right after the photos are taken, the Secret Service destroys the shamrocks.
When President Obama first took office, First Lady Michelle Obama requested that the White House fountain be dyed green, similar to a Chicago tradition, where the city dyes its river green. This White House St. Patrick's Day tradition continues today.
A few more mythbusting facts for St. Patrick's Day:
The real St. Patrick of history isn't even Irish. He is probably from Wales.
St. Patrick's Day was originally a religious holiday in Ireland. In a Catholic nation, this means all the bars are closed. No beer, no alcohol of any kind. This changed in 1970 when it became a national holiday.
Today, one percent of all the beer in the world is consumed on St. Patrick's Day alone. Much of it is Guinness, the dark Irish beer which sells more than any other individual brand on St. Patrick's Day. People drink 5.5 million pints Guinness on an average day. On St. Patrick's Day they will consume 13 million pints of Guinness.
St. Patrick did not drive the snakes out of Ireland. Snakes were probably never there to begin with, because the climate is too cold. There is no evidence snakes ever existed in Ireland. Stories about driving out snakes may have referred to pagan demons using snakes as a metaphor.
The national symbol of Ireland isn't the shamrock. It is the harp, and has been official since Ireland became an independent nation in 1921.
The famous Irish ballad "Danny Boy" was actually written by an English songwriter named Frederick Weatherly.
Your odds of finding a real, true four-leaf clover on St. Patrick's Day: one in 10,000. Lucky Charms cereal doesn't count.
Eighty four percent of Americans wear green on St. Patrick's Day. Here at Good Earth Plant Company we wear green and we live green every single day!