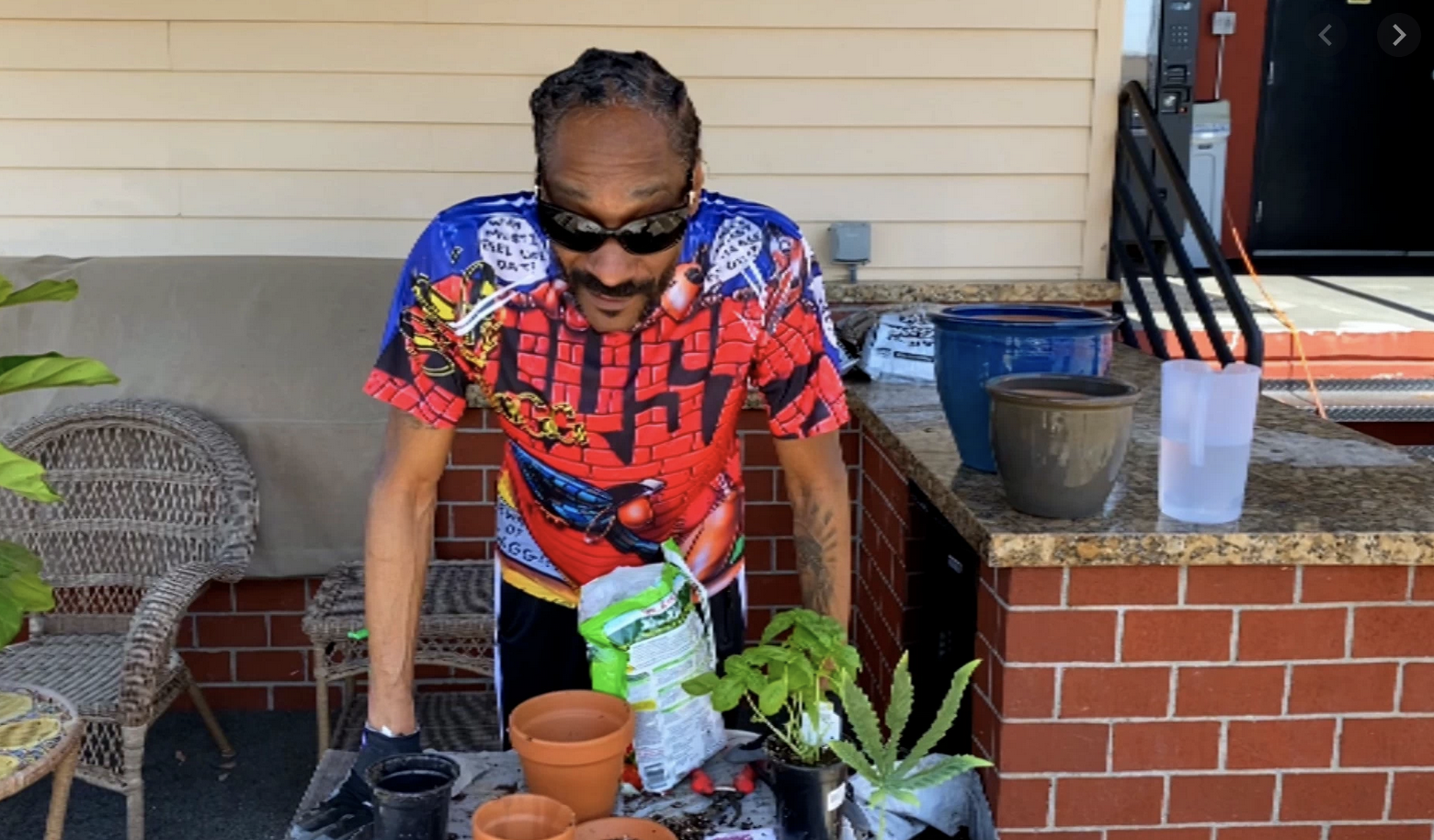 Celebrities are people, too. So during the pandemic when plants helped people cope and fill their time with a wonderful new hobby, celebrities started buying indoor plants and working on their gardens, too. Many of them couldn't wait to share their new plants  and skills on their social media accounts.
Along with all the Millennial and GenZers finding happiness and comfort with their plants, there are plenty of longtime OGs – Original Gardeners! These are the celebrities who've loved plants and gardening for years. Some have become horticultural authorities in their own right.
At Good Earth Plant Company, we love anyone who loves plants like we do. No matter how famous you are, everyone deserves to enrich their lives with plants. We admit we have our favorites.
Because we love a Top Ten list and know you do, too – here is our Top Ten List of Famous People Who Love Plants.
Kylie Jenner
She might be a billionaire thanks to her cosmetics empire and modeling gigs, but Kylie Jenner doesn't mind getting her hands dirty. She loves butterflies and so does her daughter Stormi, so her garden is a pollinator paradise right next to Stormi's playhouse. Her garden includes potted plants, water features, herb garden, and kumquat trees. We wonder – how long the moss will last outside?
Mindy Kaling
The actress, comedian, writer, and producer loves her veggies! Her Instagram account @mindykaling shows her gardening activities with varying degrees of success. Gardening is all about trial and error, Mindy!
Blake Shelton and Gwen Stefani
For those of us who remember Gwen Stefani as the punk/reggae singer from the OC back in the day, it is really hard to imagine her living in Oklahoma with her husband, country singer Blake Shelton. Stefani and Shelton along with Gwen's kids spent part of their pandemic time building a garden. She said the family planted "thousands of zinnias."
But some things never change. She told talk show host Jimmy Fallon they listened to roots reggae band Steel Pulse while they were working. She also told talk show host Ellen Degeneres she helped clear off trees and loves finding wildlife in the area including baby hawks and armadillos.
Prince Charles
Long before it became popular, Prince Charles adopted an organic approach to gardening and land management. Forty years ago when bought Highgrove House (the property near his "friend" and now wife, Camilla Parker-Bowles, depicted in the recent season of "The Crown"), he turned bare ground into 37 acres of organic gardens, a four-acre wildflower meadow, and more. This was considered completely radical at the time. Prince Charles' "Walled Kitchen Garden" produces all of the royal household's fruits and vegetables for consumption, making it completely self-sufficient. And 100% organic!
Michelle Obama
Former First Lady Michelle Obama became passionate about gardening when she noticed her daughters weren't getting nutritious meals at school, and recognized the lack of fresh fruits and vegetables in their diet, blamed on busy schedules. Mrs. Obama thought starting a garden might get her girls interested and motivate her to cook at home more often. She also began educating herself on childhood obesity. This became one of her platforms in the White House. She brought in her daughter's fifth-grade class and dug up part of the White House lawn in 2009 to plant a vegetable garden.
One year later, the 1,100 square foot garden had produced 600 pounds of 55 different kinds of vegetables and fruits including arugula, berries, and peppers. No beets, because President Obama doesn't like beets! The garden became an educational tool. She invited local schools to help maintain and harvest the crops. Later, a beehive was added. In 2012, the book American Grown: The Story of the White House Kitchen Garden and Gardens Across America, was published about her experiences with the Kitchen Garden and promoting healthy eating.
Oprah Winfrey
Long before she became famous and built a media empire, Oprah Winfrey grew up on her grandmother's small Mississippi farm. She says this is how she developed a lifelong love of gardening. Decades later, she became educated about the importance of biodiversity and turned 16 acres of her property on the island of Maui in Hawaii into a produce garden with more than 100 different species of fruits and vegetables. She produces 145 pounds of produce distributed locally on the island every week. Oprah also credits gardening for helping her with weight management and learning about eating healthy, organic foods.
Sting
Singer and musician Sting (AKA Gordon Summer) might be a rock star, but he is also a serious gardening star. Like Mrs. Obama, his gardening passion started when he wanted to improve his family diet. When you're Sting, you don't plant herbs in the kitchen. He bought a 900-acre estate with a vineyard in Tuscany called Villa Il Palagio. He converted a barn into a recording studio and got serious about learning to manage the vineyard and gardens. Today, there is a store on the property open to the public selling his wines, olive oil, and honey. It is also sold in some luxury stores like Harrods in London. The estate is 100% organically maintained.
Sting said in an interview with a local Italian television station, "When I came here I wanted first of all to feed my family with genuine foods and quality produce, grown in a healthy environment …. I also wanted to use agriculture with practices that would nourish, rather than deplete the land."
Ellen Degeneres
We praised Ellen back in 2014 when she redesigned the set of her daytime talk show to include living walls. Living walls were not at all well-known at the time, so we were impressed that Ellen recognized the importance of bringing nature and plants indoors and into the workplace.
Ellen has featured gardening on her show going back to 2010. She invited representatives from the nonprofit group Urban Farming in Detroit to encourage people to start their own food gardens.
Ellen also loves to garden herself at home, although her "home" is a massive estate up the California coast in Montecito, California. For her 61st birthday, Ellen's wife Portia di Rossi bought her – gardening tools! True!
Martha Stewart
In addition to her many other decorating, design, and cooking skills, Martha Stewart is a seriously talented gardener.  Her current HGTV show called Martha Knows Best takes place at her Bedford, New York farm. One great thing we love about Martha is that she's not afraid to try things, fail, and learn from her mistakes.
In this Instagram post, she shows off "one lily that has grown in a crazy way" in her garden, which has "forty-five separate flowers" — on one stem!
This is her Monet-inspired wildflower garden. A garden doesn't have to be formal to be fancy!
Snoop Dogg
Think back to the first time you heard Long Beach-based rapper Snoop Dogg. Could you have imagined him becoming Martha Stewart's best friend?
It's an unlikely pair that works. One of their common interests: gardening! Snoop appears on the second episode of Stewart's new HGTV gardening show. In the episode, they get into the world of container gardening – hey, that's our jam at Good Earth Plant Company!
On the show, Snoop Dogg wants to know how to plant "herbs" in containers. Uh huh! So you know Snoop Dogg has been growing those herbs in containers since he was a teenager. Martha schools Snoop in container gardening and she also shows how to plant succulent, summer plants, and evergreens.
Snoop Dogg also promotes plant-based foods and became an investor in the company Beyond Meat and Outstanding Foods, which produces vegan pork rinds.
The other thing Snoop Dogg and Martha Stewart have in common? They've both done time in prison. What else says 2021 like Snoop and Martha swapping stories on doing time and growing herbs?
Jim Mumford
Celebrity in his own mind – helping people enrich their lives with plants.