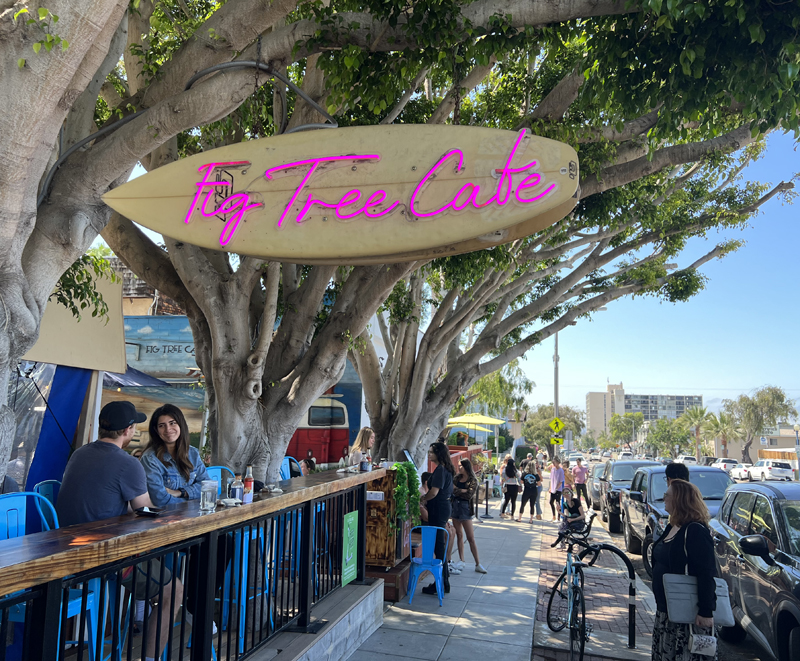 We love working with new clients at Good Earth Plant Company. When Rise & Shine Hospitality Group Chief Operating Officer Cesar Garcia needed to remodel the original Pacific Beach location of Fig Tree Café, he started the same place most of us do: Google. Good Earth Plant Company is so glad he did!
If you aren't familiar with Fig Tree Café, it opened its first location in Pacific Beach in 2008 with a simple mission rooted in the creation of an inviting and genuine dining experience. Since then, CEO and founder Johan Engman opened in Liberty Station in 2013, and recently in East Village. Each location is designed to fit its neighborhood The cafés focus on breakfast and are committed to using fresh, local ingredients and giving back to their respective communities.
After 14 years, it was time to remodel and refresh the original restaurant location in Pacific Beach. Even though it has a beautiful outdoor patio and sunny California mood, Cesar admits it was time.
"We had a bunch of fake plants. The real plants there, we weren't really taking care of them," says Cesar. "The place had so much potential. We were having trouble with the back patio as well. It didn't feel right. We felt live plants and taking care of them would change the vibe of the restaurant – which it did."
Cesar said the old planter needed to be replaced. "We had the same planters there forever, and they were falling apart. So when we were getting new plants, we did that as well. Part of the big remodel was the plants. That was our focus. The restaurant is outdoors, it has a grandma's house feeling, it goes with what's going on in the restaurant."
Making the connection with Good Earth Plant Company
Cesar used Google to lead him to people who might be able to help. Good Earth Plant Company to the rescue! We understand the importance of a good customer experience too, and we knew we could enrich the lives of a lot of people with plants at Fig Tree Café. Not just the guests dining there, but also the employees and suppliers working there.
Our business development representative Dan Summers got in touch immediately and met with Cesar. "I told him what we were looking for. I'm looking to clean the air, make the patio smell better, and look good, and we wanted a combination of different plants. I wanted some herbs, something that will smell good. I wanted a Fig Tree because it matches the name of the restaurant." Finding a fig tree the right size turned out to be a challenge. But when we found the right one, it even had a fig growing on it!
Dan asked our designer Rachel Hecathorn to create the concept, and Cesar signed off right away on her recommendations. "I wanted to bring some consistency and cohesiveness to the design, but keep the feeling of being in your neighbor's backyard. I included edible items such as a hedge of rosemary, containers of bay laurel, and various herbs planted in the barn area," said Rachel.
One key aspect of the project was cleaning the air at the restaurant. Cesar understood the ability of plants to help do this as part of the restaurant's overall remodeling. Three months later, he says "Oh my gosh, a big difference! The restaurant changed completely!"
"The ambiance change in the restaurant and the feel in the restaurant when you're walking in, the fact you can smell rosemary when you walk in, it's so us. We serve rosemary potatoes. It makes it part of the experience when they walk in. It's part of the whole experience for us," says Cesar.
Cesar admits the timing could have been improved – it took longer than he'd hoped. We agree Cesar – we're frustrated by supply chain delays too. But we're glad to get it done and get it right. "We're happy with the result," said Cesar. Mission accomplished!
Like a lot of people, Cesar and his wife got into being plant parents themselves during the pandemic. He says they are doing very well. "My wife takes care of them, that's why," he laughs. He estimates there are 30 plants both inside and on their patio, including a big money tree outside. "That's my favorite."
The Rise & Shine Hospitality Group is now working with Good Earth Plant Company to add more plants to their newer locations in Liberty Station and East Village. These simple additions made so much difference at the original location, they wanted to see the same transformation at their newer locations. We're thrilled to be working with Rise & Shine again.
We'd be thrilled to work with you, too. How can we improve the customer experience at your business or workplace? We want to see your business thrive right along with your plants, especially as people start considering their budgets more carefully. Give us a call at 858-576-9300 or email us at dan@goodearthplants.com