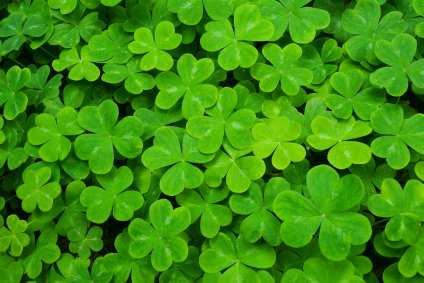 The shamrock plant is recognized as the badge for Ireland. You will find this symbol on almost everything Irish, from lampposts to tail fins of airplanes. It is a custom to pin a shamrock to the lapels of your jacket on St. Patrick's Day, March 17.
The Celtic Druids attached much significance to the clover or shamrock, because they believed the number three to be a perfect number possessing a mystical power. The shamrock represents the Holy Trinity, and also signifies past, present and future. Through its symbolism, the shamrock has paved a path to Irish glory.
It doesn't matter if you gave or received shamrocks for St. Patrick's Day. How do you grow and care for your shamrock?
The shamrock is part of the Oxalis (wood sorrel) family. This little green beauty loves cool moist air, and bright light. The root system is not extensive, and it loves to be in a crowded pot. If your shamrock tends to dry out quickly, it can be moved to a larger pot. Fertilize it once every few weeks while it is in its activity state.
Even though provide diligent care to your shamrock, there are dormant periods where your plant may look a bit sickly. When this happens, stop watering and just let the leaves die naturally. Remove them when they are brown. Place your plant in a cool dark place. In a few months, your shamrock should start sprouting new shoots. At this point, move it back into the light.
You can also divide your shamrock plant. Wait until it reaches the end of the dormant cycle. Remove it from the pot and pull off the side bulbs. Re-plant them (not too deep) in some potting soil mixed with a bit of sand. Place in a window, and soon, you will have new shamrocks.
Keep in mind that these plants do not play well with others in the same pot. Separate them and replant before the dormant period arrives. Otherwise they become too intertwined with other roots and are hard to remove.
Just like the Druids, at Good Earth Plant Company we believe in the power of the green on St. Patrick's Day and every day.