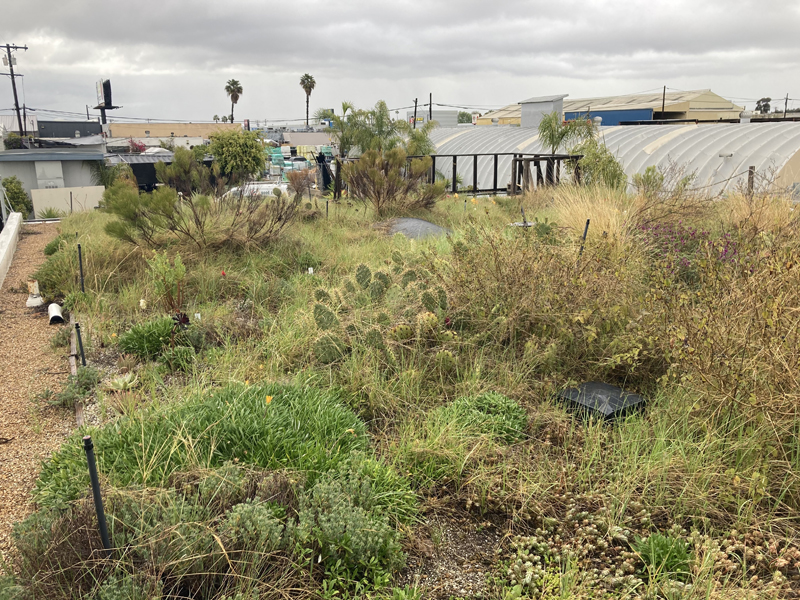 It was 14 years ago this month when the first commercial green roof appeared on an occupied building in the City of San Diego. It was OUR main office at Good Earth Plant Company. You never forget your first!
It's hard to believe it's been 14 years since we took this leap of faith, although it was made so much easier with all of the expert advice we followed and with the work of the partners who helped make it happen. So a few quick thank yous right at the start go to Ulf Waldman, Robert Thiele, Charlie Miller, Robin Rivet, and Paul Kephart.
Since then, we've installed a couple of dozen green roofs in the decade since then, from private homes in San Diego and Los Angeles, to the "Fallen Star" art installation at UCSD, one of our favorites.
Where our rooftop mission got started
After the Cedar Fire taking my home in 2003, and the subsequent divorce it contributed to, I was looking around for something new besides the workplace greenery designs we'd been providing to our clients. I remembered a booth at the American Institute of Architects selling green roof trays. I became fascinated with the concept that a vegetated rooftop saved energy, provided habitat, and retained stormwater. When friend and colleague McRae Anderson described it as a big, shallow pot I became more interested. It didn't seem all that different from what I already knew.
Or so I thought.
I started asking San Diego architects what they knew about green roofs. Everyone one of them was more interested in what I knew. My interest grew. I then found a local chapter of People for Livable Places throwing a symposium on March 15, 2006 called "Greening the City." I got involved, and one of the speakers was Leslie Hoffman from Earth Pledge in New York. As I watched the images she showed of green roofs, it was like pouring gasoline on a fire. I was hooked.
Fast forward one year. In March 2007, we completed all the necessary structural improvements and put on a new roof with three inches of soil and several hundred native plants on the building. It became the first permitted green roof on an occupied commercial building in San Diego. At the time, there was no permit process in the City of San Diego. We actually ended up helping the City to write one!
But we planted much more that day. What grew was a whole new business model for Good Earth Plant Company.
Our green roof revolution
Today in 2021, I can look back on award-winning client projects including green roofs for the University of California, Sharp Memorial Hospital and Miramar College, and numerous residential projects which we never really anticipated becoming so popular.
My original green roof at the Good Earth headquarters is still thriving. It has undergone a transformation to a natural eco-system in tune with our arid climate. With a minimal amount of maintenance and very little irrigation, it has seeded and reseeded many times over. Local pollinators, bees and birds have helped bring in species that weren't part of the original planting plan. It looks quite different than it did in 2007 but we love it just as much as ever. It's taught us a lot about the evolution of these projects.
We love everything green roofs stand for at Good Earth Plant Company. A green roof requires an upfront investment for the engineering and construction and needs artificial irrigation for the first few years. In San Diego, the irrigation requirement never completely ends between April and October. The payoff: our energy bills to cool down in summer are down over 20% and a green roof can be expected to double or triple the life of the underlying conventional roof by protecting it from damage due to debris or UV radiation. This minimizes construction waste in our landfills. We also retain stormwater and release it slowly and later in the day, thus reducing pollution taken out to sea.
More from Greenroofs.com.
Although investments in green roofs remain limited today in San Diego, one way to make them even more attractive is to combine them with the installation of solar panels, which shows no signs of slowing down in San Diego County anytime soon.
If you like the idea of saving money and saving the environment at the same time, go green when you go solar. Green roofs and solar panels make perfect partners.  A green roof can improve the efficiency of your solar energy system by as much as 16 percent.
The organization Green Roofs for Healthy Cities reported in 2019 the following North American cities have established green roof building goals to address climate change and stormwater management objectives including New York, Seattle, Toronto, San Francisco, Denver, and Washington DC. At one time, the City of San Diego encouraged green roofs downtown with density incentives, but it was not too popular. And many building owners have allowed their roof top plants to die.
In this video from NPR in 2017, the many benefits of just one green roof in New York City is impressive!
Also known as eco-roofs, vegetated roofs, and living roofs, green roofs provide many ecological and aesthetic benefits, including:
Controlling stormwater runoff, erosion and pollution
Improving water quality
Mitigating urban heat-island effects, cooling and cleaning the air
Conserving energy
Reducing sound reflection and transmission
Reducing heating and cooling energy costs
Creating wildlife habitats
Improving the aesthetic environment in both work and home settings
A green roof with about four inches of growing media (referred to as an "extensive system") may reduce a building's cooling needs by 25 percent and prevent heat loss by 26 percent. This can be a substantial energy saving, as every one degree Fahrenheit can reduce electricity use for air conditioning by eight percent. Add the bump you get in solar panel efficiency from a green roof, and the cost recovery happens quickly.
Your roof ends up providing benefits to your surroundings too. Lowering temperatures overall means lower energy consumption by turning down air conditioning.
San Diego gets solar – now let's add more green roofs
We must take advantage of solar energy's momentum to reduce electricity use in California since our state generates a significant amount of its electric power through hydro-produced electricity. The amount of hydroelectricity produced varies each year and is largely dependent on snowmelt runoff and rainfall. During drought years (like now in 2021 despite this week's rain), reducing energy use lessens the need to find ways to fill in the gaps by generating electricity that involves burning fossil fuels.
San Diego County is leading the way. We generate more solar energy than any other county in California. Residential ownership is 85 percent.
This is the great news. San Diegans get it. They are taking advantage of rebate programs over the years, and the net-metering that (for now anyway) lets you sell your extra energy back to the grid. So why not take it one step further and increase your benefits? Go green on your roof when you go solar.
Want to talk about it? Give us a call at Good Earth Plant Company and we'll figure out what works for you. We enrich peoples' lives (and help lower your energy costs!) with plants.