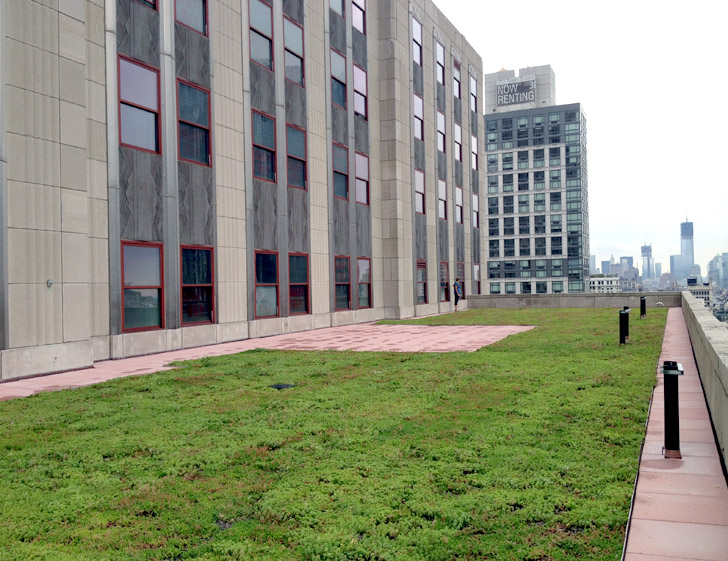 In many cities, green roofs are a growing part of the urban landscape.  The benefits are undeniable and substantial. Green roofs solve so many problems in the urban environment: preventing stormwater runoff, reducing the urban heat island effect, reducing heating and cooling costs, soundproofing, adding habitat for pollinators and birds, and cleaning the air to name a few.
The city of Toronto, Canada was the first to mandate green roofs on industrial and residential buildings in 2009. Effective earlier this year, France became the first nation to require at least partial coverage with either green roofs or solar energy technology (or a combination of both) on all new construction.
The City of San Francisco just joined the movement. In October 2016, San Francisco began requiring any newly constructed building ten stories or higher to cover 15 to 30 percent of its roof with vegetation or solar panels, or any combination, similar to France. It is the first such requirement for any city in the United States.
The city's planning department officials explained the requirement this way: "Rooftops are 30 percent of San Francisco's land area, and an untapped resource… the legislation would encourage a higher and better utilization of valuable roof space."
Building owners can get around the requirement by paying an "opt out" fee. But the experience in Toronto the past eight years shows the majority of businesses adopt the new roofing guidelines and install green roofs.
If this is so successful, my question is: what's taking so long for more cities including San Diego to do the same?
Two and a half years ago I wrote a blog post on this very same topic. For those who didn't memorize it, here it is.
At that time, I asked when more cities would follow the French example. So there has been exactly ONE. I suppose that's progress.
Since 2004, the nonprofit advocacy group Green Roofs for Healthy Cities has conducted an annual survey of the green roof industry across North America.  Tracking this data helps to provide support for policy outreach efforts in municipalities across the United States and Canada. The survey report also gives us a look at green roof installation "hot-spots" and tracks the size, source, and variety of green roofs installed.
Because of the potential cost savings created by the large scale of projects, 22 percent of all green roofs in the U.S. are in New York. The largest is the size of eight football fields on top of the Javits Convention Center. There are four separate green roof "gardens" on the Empire State Building, installed by the Xero Flor company on the 21st floor east, 21st floor west, 25th floor northwest and the 30th floor west in 2013.  This is the same system my colleague and friend Dr. Clayton Rugh at Michigan State University recommended for installation in a grant funded project at the massive Ford plant in Dearborn, Michigan. We also wrote about this one.
In New York, green roofs make sense – dollars and cents. The urban heat island effect is so extreme, the cost savings from reduced heating and cooling pencil out quickly. Hotter roof temperatures translate to hotter street temperatures, as much as 20 degrees. This leads to an increased cycle of air conditioning, which adds to the heat as the warm air is blown outside. Blacktop roofs strain the city's sewage and drain systems, clogging sewer lines, pooling water and causing the infamous gutter splashes from vehicles onto pedestrians.  There hasn't been the need for legislation to jump start adoption.
But in other areas, there needs to be more incentive. Passage of the San Francisco green roof bill is an encouraging precedent other cities may follow. Someone always has to go first!
Every metropolitan area faces similar problems effectively managing stormwater discharge based on Environmental Protection Agency guidelines. Not every city can afford to offer financial incentives in place for sustainable rooftop development. The good news is that engineers studying the cost effectiveness of meeting San Francisco's "Better Roofs" requirement found "a living roof provides net financial benefit to the building owner, while providing significant additional benefits to the tenants and the broader community."
The County of San Diego offers reduced plan check fees for projects meeting energy efficiency requirements. A green roof can certainly help meet these minimums. The City of San Diego offers sustainability credits and will expedite project approvals for construction meeting minimum standards. But the truth is that LEED certification drives most of these decisions; the government approvals are just a side benefit.
Retrofitting a green roof is difficult primarily due to the additional weight load. It is much easier to install a green roof as part of new construction. This is where the focus needs to be for now. Cities can encourage more green roofs with policies that reduce the upfront costs for developers who install green roof systems. When elected officials introduce and pass bills to require the inclusion of vegetated roofs and/or solar panels, we'll see more of them.
Thankfully smart, environmentally aware companies and individuals aren't waiting for elected officials to make it easier for them. After not getting many inquiries for the last year about green roofs, we're working with several interested clients at Good Earth Plant Company's branch GreenScaped Buildings. We're excited about bringing a few more green roofs to the San Diego region now, and many more in the future.