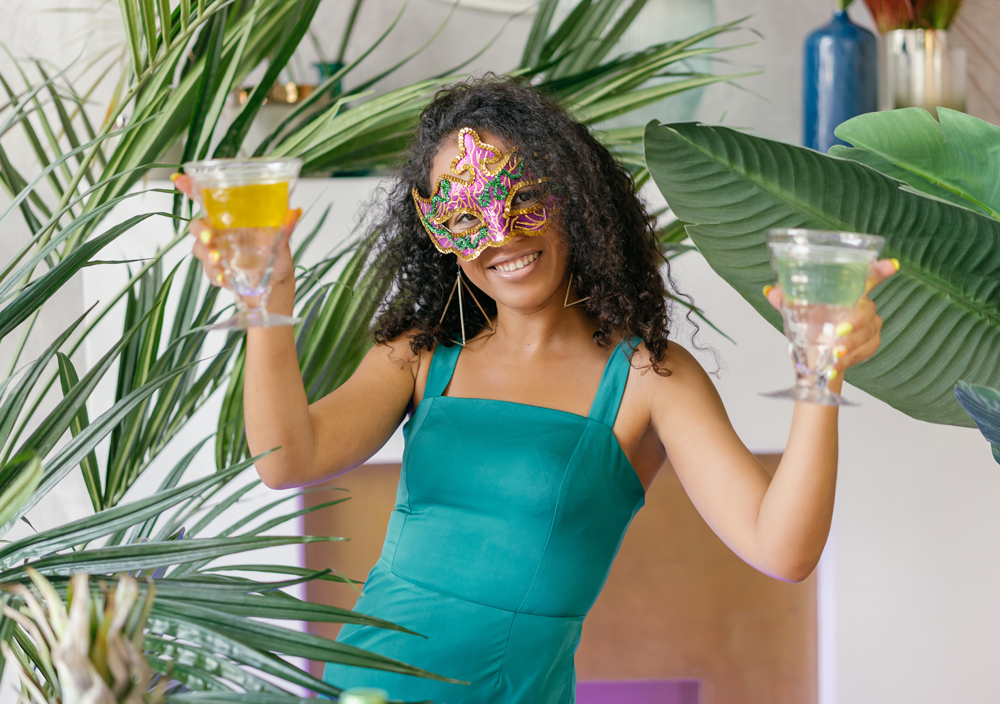 Plant lovers everywhere, get ready to party – the week of  September 20, 2021, is National Indoor Plant Week. We're giving you advanced notice! It is celebrated the third full week of September every year.
I get it, there are a whole lot of these observations. One website claims there are 1,500 of them – that's a LOT for 365 days and 52 weeks. During the same week, it's also National Singles Week, National Farm Animals Week, and National Eczema Week.
Your indoor plants deserve a celebration. All they want to do is grow and keep you happier and healthier. They don't judge you and they don't have to worry about social distancing either (how lucky!).
Last year during when the coronavirus pandemic hit, people started purchasing plants in record numbers. It hasn't slowed down at all. Once someone has success caring for an indoor plant, they want to enjoy their success again and again. Rutgers University agriculture professor Joel Flagler says people turn to nature in times of crisis in their lives.
Certain types of popular indoor plants remain hard to find. It's also hard to find fully mature plants. Call them "Insta-Plants," the 10-foot tall fiddle-leaf fig to fit perfectly into your newly redecorated house. Please buy a three or four foot version, then let it acclimate to your home and enjoy watching it grow. It will be the size you want faster than you think. In the meantime, congratulate yourself on saving some money.
If nothing else will do and you have your heart set on a certain size, consider a replica plant, seriously.
Our regular readers of the Good Earth Plants weekly blog, know we believe in the super power of plants. We love the many good things happening when we bring plants inside our homes, offices, and other buildings.
National Indoor Plant Week has a valuable goal: to promote and increase public awareness of the importance of live plants in interior spaces. Indoor plants were already growing in popularity as people learned more about their health and wellness benefits.
Then the coronavirus pandemic hit us. People started embracing biophilia and biophilic design even if they have never heard about either one.  They added indoor plants to their homes and workplaces almost instinctively – and that's exactly how biophilia works. It describes the science proving the human connection to nature.
When you add plants to your indoor environment, you:
My home benefits from the oxygen and humidity added to the air by my dozens of indoor plants. Photo: Jim Mumford
Improve air quality
Reduce noise and distractions
Decrease stress
Increase productivity
Increase creativity
Increase humidity, which may reduce aerosol transmission
And they are just plain pretty to look at!
Anyone can participate in this holiday. Do your part with something as simple as giving an indoor plant to a friend. Read our blog post about the different meanings of certain plants and flowers. Check it out to make sure you're delivering the right message to the right person before you give that gift.
Ideas for Celebrating National Indoor Plant Week:
Give your indoor plants some extra attention. Fall is a perfect time to give them a last dose of fertilizer until spring. Dust off the leaves with a soft cloth soaked in warm, soapy water
Bring home some new friends for your plants from your favorite garden store.
Give a houseplant (or a cutting) as a gift to a friend who's still mostly staying at home or in an at-risk category for COVID-19. Use contactless delivery.
Learn more about the benefits of indoor plants to your health. Start with one of our favorite blog posts.
Stand by your houseplant and breathe in the air! It's producing healthy oxygen just for you.
Teach your kids about growing and caring for plants, and encourage them to care for some plants of their own. Make it part of your at-home science education.
Talk to your plants. People believe plants respond positively when you talk to them. It can't hurt – and you will benefit from the positivity too.
Make the most of your pandemic indoor time by spending quality time with your beautiful indoor plants.
Anyone can participate in National Indoor Plant Week. No matter the size of your indoor space, you can incorporate nature into your space. See our blog post on plants for small spaces for ideas.
Want more ideas on how to celebrate National Indoor Plant Week along with us at Good Earth Plant Company? Visit the website devoted to this event each year during the third full week in September.
Are indoor plants missing in your life? Could indoor plants at your workplace create a safer and more welcoming environment for returning employees? We can help! We enrich people's lives with plants. Give Good Earth Plants a call at 858-576-9300 or email me at jim@goodearthplants.com Yes, I answer EVERY email personally – try me!